SAM FELDT
Monday, October 28, 2019 @ 10:30PM
Event Description
Explore 7 Deadly Sins and indulge in the naughtiest night of the year at #MarqueeNightclub on Monday, October 28th! Let your wild side out for a chance to win part of the $7,777 Halloween costume contest, while performing your own spooky rituals throughout the night to sounds by @SamFeldt! We'll see you on the other side, if you make it!


Costume Contest Details
Registration: Onsite at Marquee Nightclub on the night of the event from 10:30pm - 12:00am. Registration includes completing a registration form... read more
Explore 7 Deadly Sins and indulge in the naughtiest night of the year at #MarqueeNightclub on Monday, October 28th! Let your wild side out for a chance to win part of the $7,777 Halloween costume contest, while performing your own spooky rituals throughout the night to sounds by @SamFeldt! We'll see you on the other side, if you make it!


Costume Contest Details
Registration: Onsite at Marquee Nightclub on the night of the event from 10:30pm - 12:00am. Registration includes completing a registration form packet and photos. Individual and group entries are permitted.
Eligibility: Open to any guests at Marquee Nightclub, must be 21+. Contestants must be in the venue during any live selection rounds and winner announcement to be eligible to win. Current TAO Group employees are not eligible to participate.
Selection Rounds: Any live selection rounds are contingent upon the number of entries submitted during the registration period and will take place during the event. One (1) final round with a selection of finalists will take place during the event and three (3) winners will be selected. The final round will take place immediately after the conclusion of the headlining DJ set.
Judging Process: Crowd participation to help select winners.
Prizes:

Seven (7) x $1,000 cash prizes
One (1) x $777 cash prize
The Cosmopolitan of Las Vegas has established a few simple guidelines to ensure the safety of guests and team members during costume contest weekends. Prohibited items include, but are not limited to:
Masks or full face paint
Simulated weapons (e.g., knives, swords, guns, handcuffs)
Roller skates/blades and skateboards
Certain sports equipment (e.g., hockey sticks, baseball bats, tennis rackets)
Large bags or briefcases
Costumes which may be racially, culturally or politically offensive
Costumes overtly sexual in nature, including nudity, pasties or body paint
Costumes realistically imitating law enforcement officers, EMS or military personnel
Dress code is Upscale-Casual; button down collared shirts and dress shoes for gentlemen. No baseball hats, tennis shoes, or open-toed shoes for men.
Doors open at 10:30PM. All sales are final. No refunds. 21+ with valid photo ID.
More than 60,000 square feet, a rooftop patio overlooking the lights of Las Vegas, an ultra pool-club and the best DJs from around the world. Marquee Nightclub & Dayclub secures top international house music DJs as residents, and if one's taste is not in house music, Marquee also offers the 'Boom Box' as a mixed-format area, and 'The Library', a discreet VIP hideaway. With vast glass window-walls overlooking the famous Las Vegas Strip, guests will enjoy a nightlife experience, unlike any other venue.
show less
For venue or event questions, please call us at the number listed below
Marquee Nightclub & Dayclub: 702.333.9000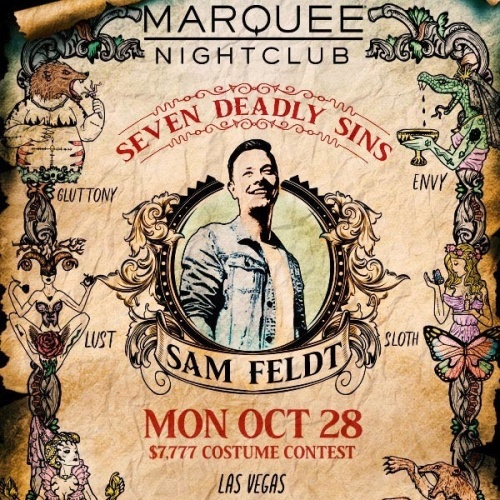 Featured Artist
Sam Feldt
Platinum-selling Dutch DJ, producer and entrepreneur, Sam Feldt, has established himself as one of the most sought after electronic artists of recent times. Due to his intelligently-crafted crossover sound, Sam has attained incredible achievements and career highlights that place him ahead of his peers, and is now ready to build onto these accolades further.
Sam started making music when he took up piano lessons at the tender age of seven. After taking more of an interest in composition and production, he swiftly learned how to DJ and produce his own music. At the age of 12, Sam was... read more
Platinum-selling Dutch DJ, producer and entrepreneur, Sam Feldt, has established himself as one of the most sought after electronic artists of recent times. Due to his intelligently-crafted crossover sound, Sam has attained incredible achievements and career highlights that place him ahead of his peers, and is now ready to build onto these accolades further.
Sam started making music when he took up piano lessons at the tender age of seven. After taking more of an interest in composition and production, he swiftly learned how to DJ and produce his own music. At the age of 12, Sam was playing his own drive-in shows and parties, accompanied by his father in his local neighbourhood. After playing several club shows across Holland and perfecting his craft behind the decks, Sam developed his uplifting production style, which caught the attention of Spinnin' Records and MusicAllStars Management. Sam signed to the management agency and the renowned label in 2014, releasing his debut single 'Bloesem' with De Hofnar to critical acclaim. Sam's single 'Hot Skin' with Kav Verhouzer subsequently followed, but it was his clever reworking of Robin S' 'Show Me Love' that catapulted him into mainstream consciousness. show less